You Are About To Seriously Slow Down On Collecting Air Miles
1 Oct 2019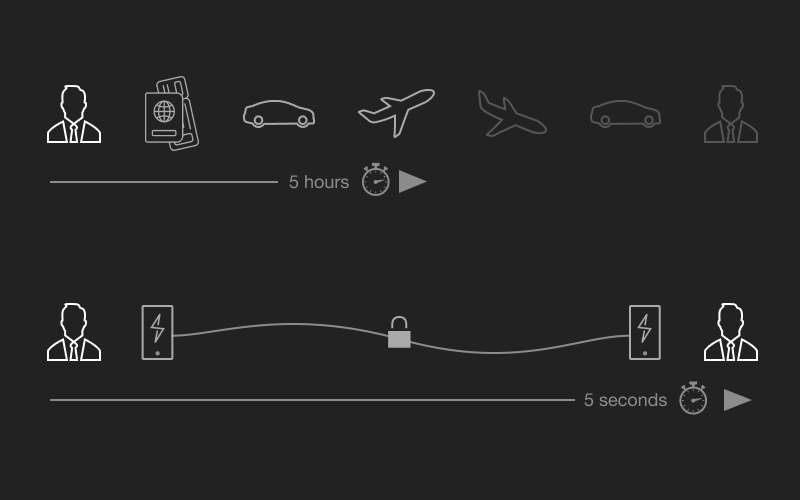 TL;DR: Meeting in-person to have a truly private conversation is now a thing of the past.
Whether you pay with your time, convenience, money or personal data—privacy comes at a cost.
Meet Jim Richards.
Jim runs a business in Central Richmond, San Francisco, CA. Over the years in business, he secured partnerships both within the home state of California and all over the country.
Here is a rough representation of how his average bi-weekly schedule plays out:
214 miles and 4-hour drive to talk privately to a partner in Sacramento
774 miles, $230 and 3-hour round trip to discuss business with a partner in Los Angeles
3956 miles, $320 and 8-hour round trip for a confidential conversation with a partner in Houston
4796 miles, $400 and 9-hour round trip to make tender bidding plans with a partner in Detroit
To ensure the privacy of his conversations Jim roughly invests 10,000 miles, $1000, and 24 hours of his time all because there is no reliable way to ensure the privacy of a remote conversation. These are just a couple of the many busy weeks.
Imagine how much could be saved annually even if 80% of these meetings could be held remotely over a secure line?
And we are not even talking money.
Think of the hours you can spend with your loved ones, invest in your hobby, or actually work on growing your business instead of sitting in the airplane seat.
This Is Exactly Why You Need Stealthtalk
The entire StealthTalk project is about delivering a tool that achieves uncompromised privacy of digital communication. To achieve that, the team behind StealthTalk repurposed their patented military-borne Stealth Technology for professional use.
And, mind you, it is not just another marketing use of the word 'military'.
Stealth Technology was developed to secure the communication of the military and emergency response services in the US, Europe, and the Middle East and the same cyber tech is now being made available for private business communication.
With StealthTalk, business owners like Jim and yourself can make truly private untraceable calls and send undecipherable messages invisible to the rest of the world.
Meeting in-person to have a truly private conversation is now a thing of the past. StealthTalk frees you from eavesdropping and tedious meetings that take a toll not only on your health but also step on the toes of your deadlines too. Keep it simple!
Stay secure.