WhatsApp Changes Positioning About Privacy Policy
4 Jun 2021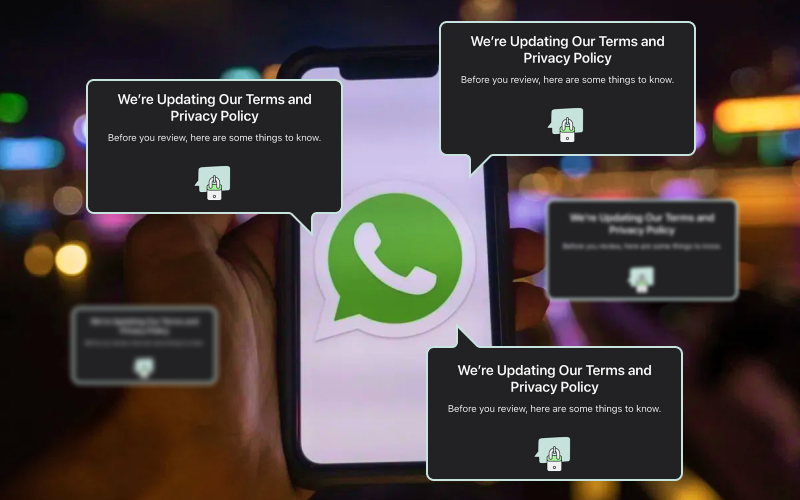 Backtracking on a bold statement is like deleting a tweet - you basically accept defeat.
Before WhatsApp's new privacy policy went into effect on May 15th, the Facebook-owned company asserted that it would limit app performance for users who wouldn't agree to an updated document.
Fast forward a few weeks, and WhatsApp makes a complete 180 on their own statement, saying that "No one will have their accounts deleted or lose functionality". The backtracking of WhatsApp can be easily explained, as governments of India, Germany, Brazil, Turkey and other countries have taken a hardline stance against such an approach.
Now WhatsApp will only bother its users with repetitive notifications, that would encourage users to accept the changes in the Privacy Policy.
What The Users Are Threatened By?
In any sort of forceful negotiations there is leverage.
In this case, the service provider wanted to block out text messaging and media content for users who did not accept the policy, only leaving them with audio messages, which are neither convenient nor popular at scale.
That was a bold move, and it did not pay off. WhatsApp essentially decided to deny users main functionalities to pressure them into accepting the agreement beneficial to the service.
Why was WhatsApp so determined to get the opt in?
The answer is not really surprising. Under the new policy, the IP addresses, logs from WhatsApp, and user transactions would be sent directly to Facebook, who in turn would use that information for improved targeted advertisement.
Simply put, WhatsApp prioritized ad revenue over free in-app interactions. They felt that such trade-off was justified, since the company already boasts two billion monthly active users.
WhatsApp also revealed that they changed their stance because they were pressured by politicians and security specialists, not users.
The More Things Change, The More They Stay The Same
The turnaround doesn't change much in WhatsApps's data collecting process.
Furthermore, WhatsApp developers would continue to push people in the general direction of policy changes, trying to sell them the advantages of opting in.
When they did it the last time, near January of 2021, a large influx of users flocked to more trustworthy and secure messengers. Signal and Telegram, two of the main WhatsApp alternatives, were joined by 500 million people.
From the announcements we also know that although users will still be able to answer incoming calls and respond to messages, they won't be able to access the standard chat list from within the app. This is important because WhatsApp claims it deletes accounts after 120 days of no use.
As of now, the message from WhatsApp seems to be the following:
"We will continue to remind users from time to time and let them accept the update, including when they choose to use relevant optional features like communicating with a business that is receiving support from Facebook. We hope this approach reinforces the choice that all users have whether or not they want to interact with a business."
There'll Always Be An Alternative
If you're looking for a platform that will be more considerate about user rights, consider choosing an alternative. There are a lot of good options available, not only Signal and Telegram.
StealthTalk is an instant messenger that allows you to send encrypted text messages and files regardless of your subscription tier. To find out more about the app, please consider looking over our Privacy Policy.
You can use StealthTalk for free, and be sure that it holds every user in high regard. Try the app by downloading it from the App Store or Google Play!